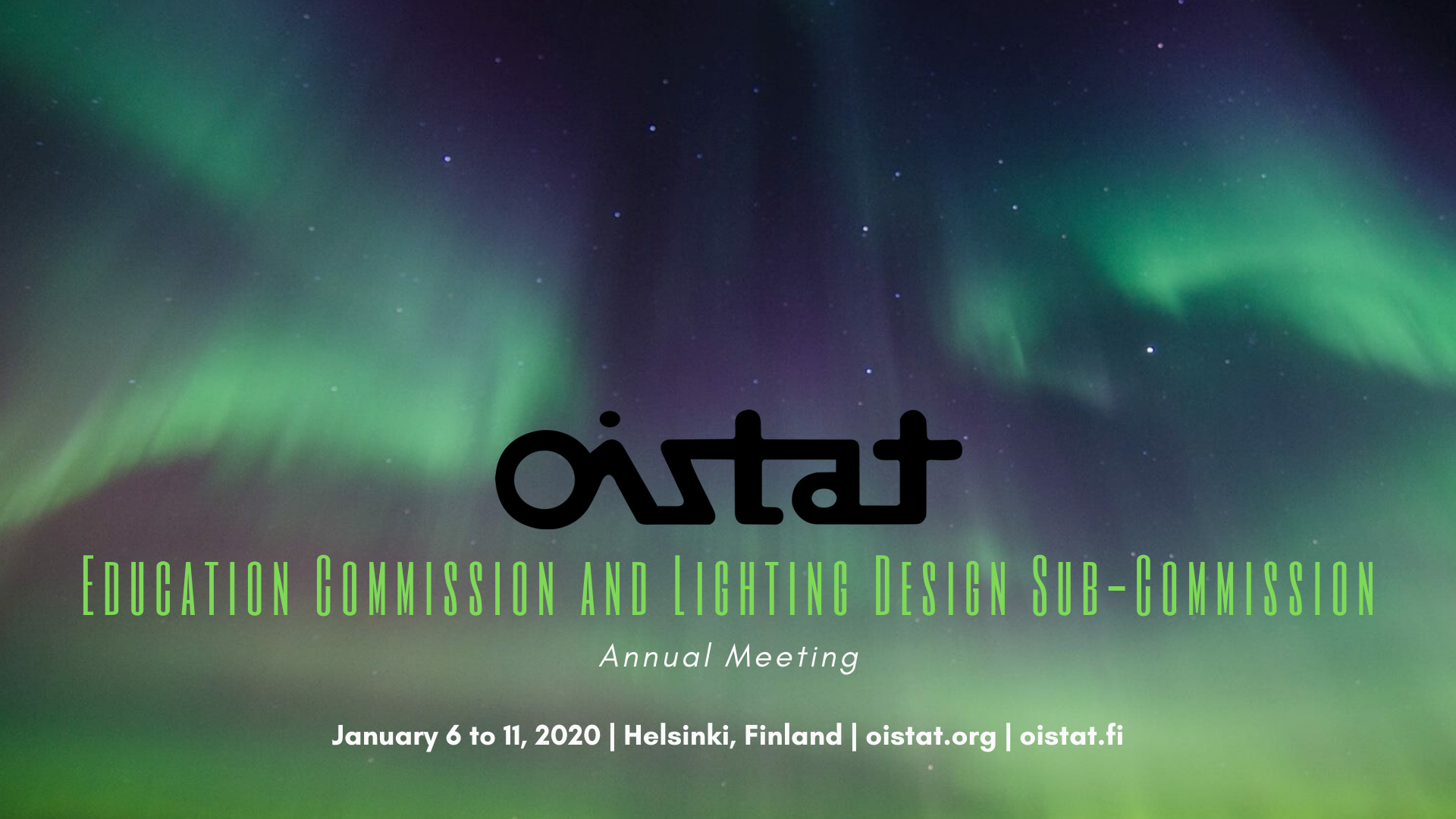 6–11 January 2020 in Helsinki, Finland, during Lux Helsinki Light Art Festival and in Stockholm, Sweden.
PROGRAMME
Tuesday 7.1.2020 / Helsinki

11:00-17:00 Lux Helsinki Symposium 2020
@ Helsinki City Hall (Kaupungintalo) Pohjois Esplanadi 11-13, 00170 Helsinki
Registration: https://www.facebook.com/events/2731952450364851/
19:00-21:00 Visiting the Lux Helsinki event with local hosts
Map and info: www.luxhelsinki.fi
Meeting point: The Senate Square, in front of the Statue of Alexander II
Wednesday 8.1.2020 / Helsinki
09:30–17.15 OISTAT Seminarium: Green – The Sustainable and Ecological Questions in Theatre
(12:15–13:15 Lunchbreak)
@ University of the Arts Helsinki, Lighting studio, Lintulahdenkatu 3, 6th floor
19:00-22:00 Dinner
@ Restaurant Palema, Työpajankatu 2, building number 5
Thursday 9.1.2020 / Helsinki
OISTAT Business Meetings
10:00–11:00 Education commission meeting
11:00-12:00 Lighting Design sub-commission meeting
@ University of the Arts Helsinki, Lighting studio, Lintulahdenkatu 3, 6th floor
12:00–15:00 Lunch and Visit: Theatre Academy of the University of Arts Helsinki OR Aalto University, Aalto Arts, Wäre
17:00 The Cruise ship Silja Serenade leaves to Stockholm and OISTAT seminarium continues at Silja Serenade Conference Center
19:30 Dinner at Grande Buffet
Friday 10.1.2020 / Stockholm
07:00-10:00 Breakfast
10:00 Arrival to Stockholm
10:30-12:00 Visiting Stockholm University of the Arts
12:00-12:45 Lunch
13:00-14:00 Visiting The Royal Dramatic Theatre (Dramaten)
14:10-16:00 Visiting The National Museum, Exhibition "Breathing Color"
AND/OR Visiting The Royal Opera
16:45 Departing Stockholm with Silja Serenade from Värtan
Saturday 11.1.2020 / Helsinki
10:00 Arrival to Helsinki
The meeting is arranged by the Finnish OISTAT Centre. The cooperators are the Theatre Academy of the Uniarts Helsinki's Degree Programme in Lighting Design and the Association of Swedish Lighting Designers. The meeting will be held in conjunction with the international Lux Helsinki Light Art Festival.
More information, the programme and and the registration here!
You Are Warmly Welcome!
More info:
Kimmo Karjunen
Chair of the Finnish OISTAT Centre
kimmo.karjunen(at)uniarts.fi