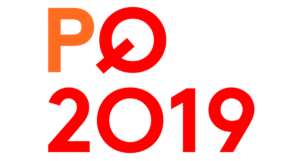 Exhibition of Countries and Regions at
The Prague Quadrennial of Performance Design and Space (PQ19): FINLAND

Fluid Stages
Curated and designed by art collective KOKIMO
KOKIMO: Kristian Ekholm, Markus Heino, Raisa Kilpeläinen, Viljami Lehtonen, Anna Murtola, Veera-Maija Murtola, Anna Pöllänen ja Salla Salin.

The starting point of the concept for Fluid Stages is an experience of the world as a scenographic landscape: as stage, as montage, as a series of scenes. By focusing one's perception and sharpening the senses, the artworks included in the Finnish national exhibition enable a multisensory reading of various layers of existence.
Fluid Stages consists of a site-sensitive exhibition inside the Industrial Palace and of seven independent performative artworks around Prague. (Addresses to be confirmed later.)
Acts of Care (2017–)
by Milla Martikainen, Kati Raatikainen, Petra Vehviläinen, Eero Erkamo, Sofia Simola
Acts of Care is a performance installation welcoming the participants into a plastic bubble tent situated in public space. Aiming at creating a safe place amidst the climate crisis anxiety, the performers share various acts of care.
Mindscapes Landscapes (2017–)
by Alexander Salvesen, Eero Nieminen, Karoliina Kauhanen, Katriina Tavi and Pinja Poropudas
Mindscapes Landscapes is a performance in which environmental installation meets contemporary dance and live-cinema. The main concept is based on a large camera obscura, which serves as the viewing space for the audience.
No Doubt (2019)
by Marja Uusitalo
No Doubt is a site-sensitive, urban installation, created using mundane materials. The work operates on observations, and the limits of perception: providing a possibility for a change of perspective as a dramaturgy emerges from successive chance encounter.
Robot Loves: A Little Bit Closer (2019)
by Laura Sariola and Veikko Sariola
Robot Loves: A Little Bit Closer is a living installation, in which the audience interacts with a mechanical actor. By tracking the audience's responses to light, sound and motion, the installation adapts to the preferences of the viewer.
Sonic Presence of an Absent Choreography (2019)
by Anna Nykyri, Félix Blume and Veli Lehtovaara
Sonic Presence of an Absent Choreography is an immersive sound installation and choreographic environment that consists entirely of the recorded sound of a dance. The work reveals the ephemerality of the body in the stage through the immaterial media of sound.
Suck My Chair (2019)
by Siru Kosonen, Hannah Maria Ouramo and Markus Lindén
Suck My Chair is an installation which explores the auditorium chair as a political, social and aesthetic structure. Treating the chair as an object and a body part it asks how it can be and is materially present in the space.
World Space (2019)
by Kalle Rasinkangas
World Space is an interactive virtual reality installation, which combines a physical chair with virtual reality. Meant for one person at a time, this installation invites the participant to explore the virtual world through movement and touch.
See the timetables & locations here!
Additional Finnish Artists at PQ19
Fragments
Liisa Ikonen: Dialogic Scenography: Phenomenological Interpretation of an Alternative Work Process (2006) – the first doctoral dissertation concerning alternative scenographic working methods, outside repertoire theatre and without a pre-written script in Finland.
Curated by KOKIMO.
National Museum Lapidary, Prague Exhibition Grounds
Site-Specific
Kaisa Illukka: I Can't Even Make a Flower
Niskanen & Salo: No Names
Prague Exhibition Grounds
Formations
Teo Paaer: We Tear Walls / We Build Walls
Prague Exhibition Grounds
PQ Studio
Kirsi Manninen: Digital Character Drawing
Sofia Pantouvaki: Thinking Costume Lab
Mimosa Norja & Mimosa Kuusimäki : Random Encounters Retreat Center
Theatre Faculty of the Academy of Performing Arts in Prague (DAMU)
PQ Talks
Sofia Pantouvaki
Prague Exhibition Grounds

Blue Hour as a Part of PQ'S 36Q° Project
Tanja Bastamow
Paul Cegys
Prague Exhibition Grounds

Student Exhibition
Kolo (2019)
Aalto University & Theatre Academy of the University of the Arts Helsinki
Industrial Palace, Prague Exhibition Grounds